Maximize the appeal of double woofers
The FitEar MH335ht is a new generation double woofers model based on a redesigned of MH335DW.

Without modifying the driver configuration of the MH335DW, the high-frequency range has been expanded by tuning the sound port. The low-frequency response has also been improved by reviewing the  components and improving the network, this delivers a high quality sound that brings out the best of the double woofers.
In the conventional MH335DW, each unit had the samesize sound holes.
In the MH33ht, 3 D printer modeling was introduced to enable a more optimal sound hole design.
By making the sound hole leading to the high_frequencyunit horn_shaped, the sound range of high frequencieswas expanded.
in addition, a complex structure combining low-frequencyand mid_low_frequency sound holes at the tip of the horn
section has enabled a more compact 3-way layout thanbefore.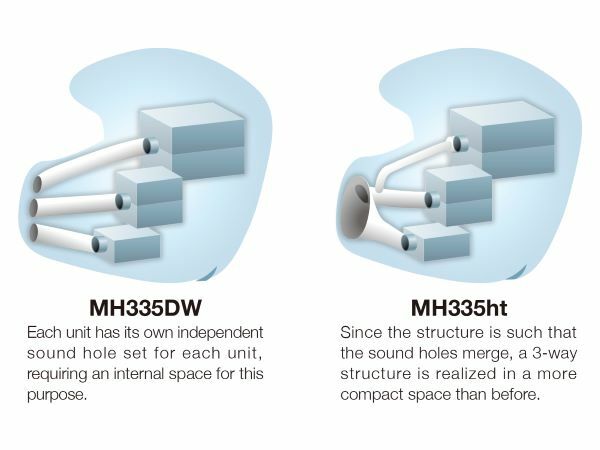 Configuration    :   Balanced Armature Driver x 5 
                              3-way / 3-Units / 5- Driver
                              (Low x 2, Low-mid x 2, High x 1)
Attached Cable  : FitEar cable 013 ( 3.5mm stereo mini plug)
Accessories        : Pelican 1010 case, Mesh pouch, Cable clip, Cleaning brush